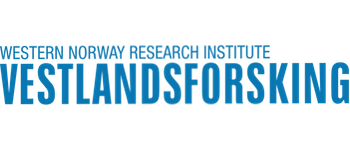 Stiftinga Vestlandsforsking/Western Norway Research Institute (WNRI) is a nonprofit, assignment-based research and development foundation devoted to serve the needs of businesses, industry and public bodies. The institute has two research departments, climate & environment and information technology, and a staff of 28.  WNRI has competence in the academic fields of social studies, natural sciences, technology and the humanities. The primary objective of the Department of Information Technology (IT) is to apply information technology in new contexts, adapting and further developing systems, as well as developing new solutions to meet special needs. The department plays a key role in bringing research and the private and public sectors together as a community builder. Principal research areas of IT department are semantic technologies, knowledge discovery in Big Data, eInclusion, welfare technology with application to, among others, emergency management, tourism, health, energy, eGovernment, regional development. The department also aims to examine current practices used for requirement engineering and user-oriented evaluation in various settings in terms of how it is done and what needs to be done to improve the quality of requirements specification, which leads to mutual benefits for implementers as well as end-users.
WNRI has extensive cooperation with a number of research institutes and universities within and outside Norway. The IT department is engaged in:
ISO 15926 and semantic technologies Network (coordinating partner): Funded by GDF SUEZ E&P.
International Conference Series on Web Intelligence, Mining and Semantics (WIMS founding convener)
WNRI contributes with knowledge based on the following specific research and work priorities:
Requirements gathering & definitions
Technical analysis of the impact of social media for citizens and for EMS
Definition of validation scenarios and the guidelines for performing the validation and verification activities
Role in the project
In EmerGent, WNRI leads technical analysis of how EmerGent would interact with mobile devices and social network providers in T3.3. WNRI also leads the activity of defining the functional requirements in T3.4. The WNRI provides its expertise in requirement specification study and previous experiences and insights in analysing how to interact with users' profiles taking into account user privacy issues and technical restrictions of distinct social network.
In WP6, WNRI is mainly responsible for performing the validation and verification activities (T6.2) that will follow two major iterations and produce two different reports according to the integration of components developed in EmerGent. Next, WNRI plays a part in user-oriented evaluations and in analysis of evaluation results.
WNRI collaborates with other partners on the project exploitation plan (T7.4) with objective to identify the best strategies for improving emergency management systems and crisis management procedures. WNRI also contributes to the ethical and data privacy issues related to EmerGent (in WP7).
As with all other partners, WNRI will participate in collaborative workshop and other project activities.
Contact
Rajendra Akerkar, rak@vestforsk.no
WWW: www.vestforsk.no