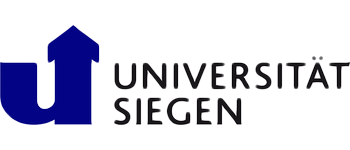 The research group "Computer Supported Collaborative Work and Social Media" (Prof. Dr. Volkmar Pipek) at the University of Siegen (USI) investigates the development, introduction and appropriation processes of cooperation and media systems. This class of applications supports the interaction among human actors within social systems. Designing these applications gains technological base for social networks among individuals, organizations and (non-) governmental institutions. Examples of cooperation and media systems are: communication and cooperation systems, community systems and learning platforms, electronic workflows and digital markets. The research group is internationally well-known in the areas of Human Computer Interaction (HCI), Computer Supported Collaborative Work (CSCW), Community Research and empirical studies in Applied Computer Science and Information Systems.
USI has successfully finished and is successfully working in a wide variety of projects. USI coordinated the project INFOSTROM (BMBF, 2010-2013), that focused on building a platform and interaction concepts to allow the stakeholders (electricity providers, police, firefighters, public administrations, citizens, etc.) involved in restoration and coping work after a large power outage to coordinate their information needs and work processes. Therefore USI created an open-source based implementation of a social network for emergency services (Security Arena), including modules for collaborative situation illustration and mobile collaboration and reporting. Furthermore studies on the use of social media in crisis management, focusing on different scenarios or volunteer activities were conducted. Within the project "Crisis Communication" (2006-2008) on behalf of RWE (one of the biggest German energy network operator) USI researched the preparation of crisis communication concepts in case of failure of supply infrastructures.
USI contributes with knowledge based on the following specific research and work priorities:
Computer Supported Collaborative Work in Emergency Management
Social Media for Citizen Engagement
Technology Design for Emergent Collaboration
Role in the project
In EmerGent, USI is responsible for WP3 (Analysis of Social Media in Emergencies Today and Tomorrow), focusing on current use of social media in different use cases and possibilities for both citizens and EMS, which is based on studies on the use of social media during various crisis. In WP2 USI focuses on the continuous citizens and EMS involvement by social media, this also tries to establish the possibility for users to participate during the whole project duration. Besides analytical (WP2) and empirical work (WP3) and based on studies on information quality in collaborative systems USI tries to technically support the analysis of social media (WP4). Based on this USI focuses on user-centred/participatory design and development of social and mobile apps, that support collaborative analytical, interpretation and presentation work of and in social media and that connect to existing social media (WP5) and its evaluation (WP6). USI provides a connection to an existing social network (called 'Security Arena') as well as to commercial social media (T.5.1) and they design social apps especially for citizen engagement (T.5.3).
Contact
Christian Reuter, christian.reuter@uni-siegen.de
Thomas Ludwig, thomas.ludwig@uni-siegen.de